When I started baking and decorating cookies in late 2001, I had no idea what I was getting myself into. My Norwegian husband and I had made a gingerbread house for the holidays, and with the extra dough I made a few cutout cookies. Something about the entire process - from mixing the dough to piping the final decorative details - pulled me in. I loved it. Long after the holidays I continued to experiment with different doughs and icing recipes until I found a few that would help me create cookies as delicious as they are beautiful. If you look at my portfolio, you could say I went beyond experimenting. I went crazy.
Everyone has a different way of expressing themselves creatively. Mine happens to be cookies that are full of color, whimsy, unusual images and shapes, and even a few mistakes. My cookies are an extension of who I am, what I believe, how I feel about myself and the world. I share my inspiration, my ideas, my process and my latest designs on my
blog, cha no ma-ri
.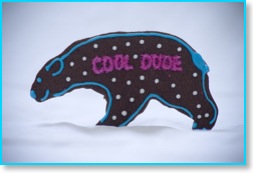 On my
home page
, I mention that mischief mari cookies have appeared in some mighty nice places like the New York Times. It's a rush to get that kind of notice. But the greatest part of this creative journey has been the friendships I have made through sharing my stories and cookies. I have met some amazing people through my blog and I am proud to call them friends. Good friends who continue to carry me, who make me want to do better with every project I start, who make me want to be a better person.
If you've read this far, thank you. You don't have to be fascinated with cookies to understand what I do. But it doesn't hurt.
- - - - - - - - - - - - - - - - - - - - - - - - - - - - - - - - - - - - - - - - - - - - - - - - - -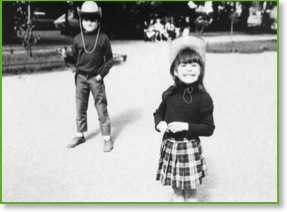 "mischief mari" is one of many nicknames my father gave me when I was growing up. "mari mustard sandwich pfeiffer," "Chief Dirty Feet," "MEHP" (my initials) were a few others. mischief mari is the name that stuck because I was always putting my nose into business where it didn't belong. They say a child who has many names is very loved. I won't disagree with that. I was about five years old in this picture. I haven't changed much.