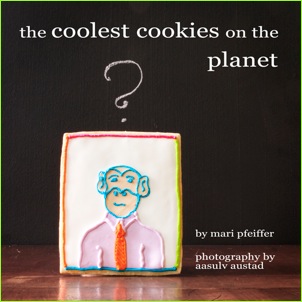 My lovely little book,
the coolest cookies on the planet
, is here! A veritable labor of love, it contains the stories and events that inspired my most unique designs. This book also contains a nice collection of tutorials that are easy to follow and will inspire anyone to get in the kitchen and create their own special edible works of art.
Click here for more information including a most fabulous preview! And for occasional updates as well as first dibs on discounts and gifts, please subscribe to my newsletter, The. List.




❧ ❧ ❧ ❧ ❧ ❧ ❧ ❧ ❧ ❧ ❧ ❧ ❧


Welcome! mischief mari cookies combines my love of baking with my love of storytelling. Every cookie I bake and design is made with a little muscle, a whole lotta love and a whiff of mischief. And behind every cookie is a story.

Since I started this crazy baking mania in 2001, mischief mari cookies have appeared in the New York Times and some major blogs including SwissMiss, DesignNotes and Papilles & Pupilles.

I don't own a bakery. And I don't sell my cookies through other retailers. I produce these edible works of art for the best reason I can imagine: because I love to. When my work makes someone smile, that makes me happy. It feeds my soul.

What feeds your soul?


Find something that fascinates you. Then go crazy with it.